De kristaltuin
http://www.youtube.com/watch?v=xtrLa3rHHVk...3710BD&index=21
http://website-tools.net/google-keyword/word/salt+crystal+experiment
http://www.thuisexperimenteren.nl/science/chemtuinzout/chemtuin.htm
Day 1: In a shallow glass or plastic bowl, place some pieces of : coal, charcoal, porous brick, tile, cement, or sponge (a cut-up kitchen sponge works very well).
Over these, pour two tablespoons of water, two tablespoons of salt,
and two tablespoons of Mrs. Stewart's® Bluing.
Day 2: The next morning, add two tablespoons of salt over entire area, even if crystal growth has begun.
Day 3: On the third morning pour into the bottom of the bowl (not directly on the base materials) two tablespoons each of salt, water and MSB.
At this time, you may add a few drops of food coloring or ink to each piece for additional color.
To keep your Salt Crystal Garden growing, simply add more MSB, salt, and water from time to time.
Tips: A free circulation of air is necessary, and the drier the air, the better.
To accelerate crystal growth, add two tablespoons of ammonia on Day 1 and Day 3 along with the other liquids (adult supervision needed).
**** A few pipe cleaners stuck into the sponge create a beautiful "ice-garden" effect!
**** For crystal Christmas trees, make a standup tree out of blotter paper and set it into the ingredients above — watch the magic!
Why Does it Grow? The coral-like formations are formed by the recrystallization of the salt upon evaporation of the liquid.
The base material (sponge) draws the salt-saturated liquid up by capillary action and provides more surface
area over which the liquid can evaporate. The microscopic bluing particle acts as a nucleus around which the salt can recrystallize.
The growth rate depends on the humidity of the surrounding environment, taking from hours to days to begin.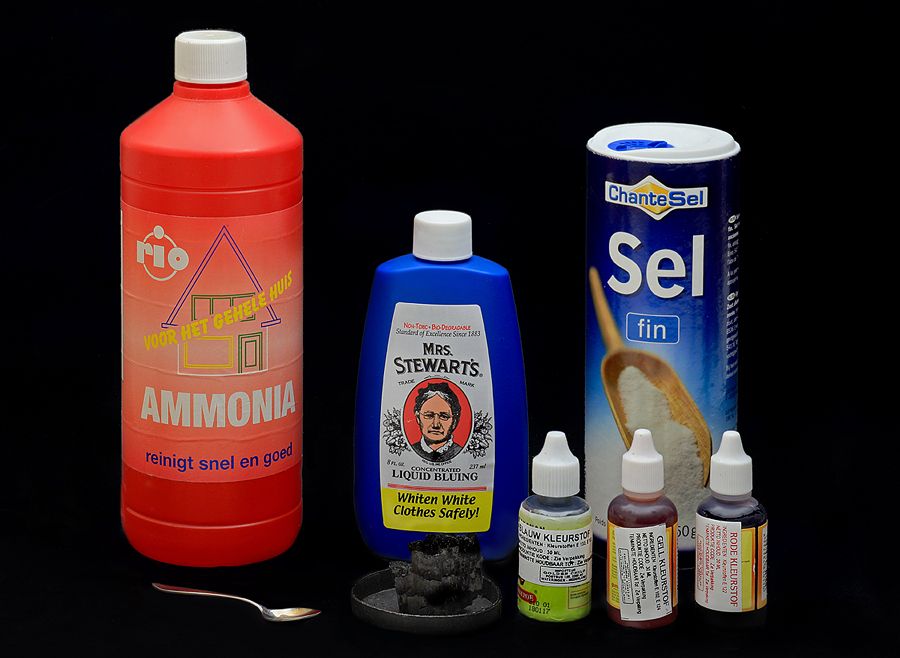 1 De ingrediënten
Mrs. Stewart's® Bluing heb ik via het internet besteld
Bij de plaatselijke toko heb ik de kleurstoffen opgehaald; rood doet tot nu toe niet mee
In de lensdop ligt een stukje houtskool; leek me natuurlijker dan papier of karton.
Het lepeltje is in dit geval mijn maat: 4 schepjes van elk.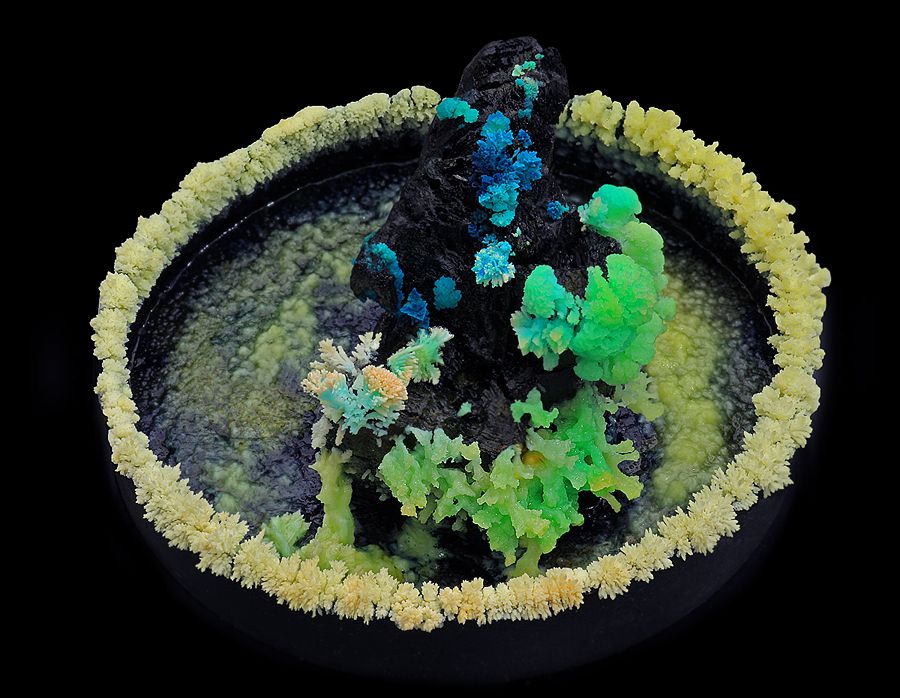 2 Op de verwarming gezet en na enkele uren zien we dit:

5 Na 9 uur stopt de groei; als je nu weer zout water enz. toevoegt gaat de groei door