Introduction
The Holland Express is a group of young dancers and musicians at the age of 15 up to 25 years, which started in the year 2005.
The group tries to mix traditional Dutch culture with modern themes to create beautiful dances, with which they have been performing in and out of Holland ever since.
Choreographer Guus van Kan guides the group artistically and organisationally, while Gerwil Kusters is in charge of all musical compositions.
On January 2008, a junior group was created, meant for dancers and musicians at the age of 12 up to 16 years.

Are you interested in booking a performance by the Holland Express, or do you want to join the group? Feel free to contact Guus van Kan.





---
Holland Express Chistmas Sponsorbal
The Christmas bal has taken place and was a great succes, pictures can be found at:
http://www.dedemsvaartinbeeld.nl/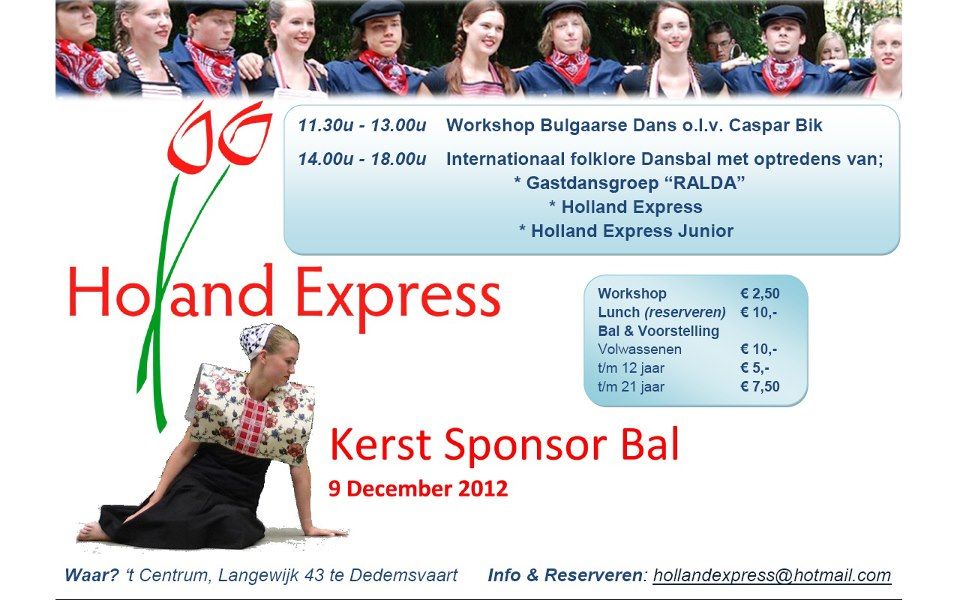 ---
Holland Express compilation Jubileumperformance
---
Holland Express on TV Gelderland
On March 2nd the Holland Express was seen in the tv program "Gelderse Koppen" at TV Gelderland.



Klick here to see the full episode.


---
Holland Express on Facebook
Of course we can also be found on Facebook. Come follow us!
Holland Express op Facebook